What is Bullying?
Bullying must have the 3 P's to be considered bullying:
Power: imbalance of power
Purpose: person intends to hurt you
Pattern or Persistence: person continues action over and over again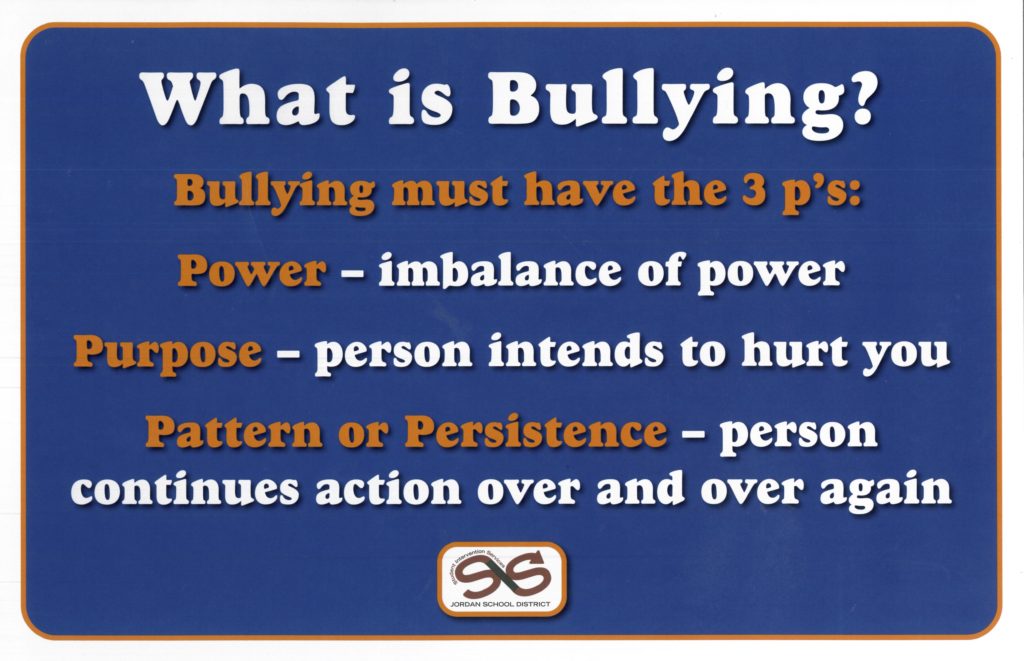 3 Types of Bullying:
Physical (hitting, shoving, grabbing, kicking, spitting, tripping, punching, stealing, destroying or hiding someone's belongings)
Verbal (threats, lies, rumors, racial comments, teasing, name-calling)
Social (refusing to talk to someone, telling others not to be someone's friend, gossiping, excluding)
Bullying is NOT a normal childhood activity, it is NOT a "rite of passage", and it is NOT the target's fault.
What is the Difference between Bullying and Normal Peer Conflict/Mean Behavior?
Normal Peer Conflict/Mean Behavior
Bullying

Equal power – friends
Happens occasionally
Accidental
Not serious
Equal emotional reaction
Not seeking power
Remorse – will take responsibility
Effort to solve the problem

Imbalance of power
Repeated negative actions
Intentional
Physical or emotional harm
Unequal emotional reaction
Seeking control or things
No remorse – blames the target
No effort to solve the problem
Warning Signs that Your Child may be the Victim of Bullies:
Frequently teased, ridiculed, threatened
Has a derogatory nickname
Unexplained bruises or injuries
Has belongings taken or damaged
Few or no close friends
Less assertive
Lacks the skills to respond to teasing
Appears weak or physically dominated
Frequently socially isolated
Tries to stay close to a teacher or other adult at recess
For more information on Jordan District's policies for the discipline related to bullying, see: